How to grow your trucking company: 7 steps to start taking today
January 22, 2021

You took a chance, became an owner-operator and are pleased with the success you're having. What comes next, though?
As a company truck driver, you calculated your career growth by the performance pay increases and annual raises you received. As an owner-operator, though, your career growth can be measured by how your business itself grows.
If you're an owner-operator who is ready to take the next step with your business, check out these seven suggestions on how to grow your trucking company.
7 tips on how to grow your trucking company
1. Consider your current financial situation.
In order to grow your business, there's a good chance you will hire a truck driver to work for you. That means you'll need to make sure you have a reliable, cost-saving truck for that person to drive. To do so, you'll need a decent credit score and some money set aside for a down payment.
If your credit score isn't where it needs to be, start working on raising it. If you don't have a whole lot of cash in your savings account, decide how much you'll save each month to accumulate enough for a down payment.
Otherwise, if leasing a truck versus buying one is a route you are considering, you may be surprised that some leasing companies, like SFI Trucks and Financing, will work with owner-operators, regardless of their credit score or how much they have for a down payment.
2. Start making simple changes.
The easiest thing you can do to grow your trucking business is start changing your daily habits. There are simple things you can do every day that will make a big difference in the long-run.
Three ways you can start growing your business now:
Focus on your average revenue per day. According to ATBS, the most successful owner-operators are ones who focus on their average revenue per day by choosing the best value loads. Owner-operators who focus on driving lots of miles and don't factor in revenue per mile, typically earn a lower revenue per day and spend more on operating costs. Learn more about how to increase your average revenue per day by focusing on both revenue per mile and miles.
Packing food for meals and snacks: Having to find somewhere to eat, even if it's just a fast food place, takes time and extra trip planning, not to mention the cost. Even if you get just 30 minutes back into your day by packing your meals ahead of time instead of having to find a place to eat, that's 30 more minutes you can spend driving and making money.
Using technology to its fullest potential: There are some incredibly useful apps for truck drivers and owner-operators out there, including electronic log book apps, weather apps specifically for truck drivers, apps that can be used at weigh stations, etc. Download apps onto your phone that will help you save money and time out on the road.
3. Update and properly track your budget.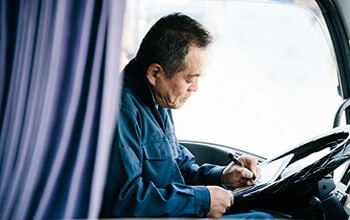 If you don't already have a budget laid out, now is the time to do so. You could use an excel document to track your monthly expenses or a free, virtual tool, such as mint.intuit.com or everydollar.com.
When digging into your budget, it may look different now than when you started your business. Hopefully, now that you've gained some experience, you're generating a higher revenue than before.
It's important to keep a budget because how much revenue you're actually generating and how much you're actually spending may be different from what you're generating and spending in your head. It's important to know those exact numbers. Plus, there could be easy ways to save money that you hadn't previously considered before going through your budget.
While updating your budget, you can also calculate what your current cost per mile is and what your rate per mile must be to make a profit.
If you aren't coming out ahead, it's time to seriously reconsider how you get your loads.
4. Reconsider how to get your loads.
When you were a new owner-operator, you likely leased your business on to a motor carrier. But as you've become a more experienced owner-operator, you have the opportunity to pick the option that works best for your business.
There are many other ways to find your loads – from using a freight broker to working directly with a shipper to leasing-on with a company like Schneider. Choose the option that will work best for your business.
5. Invest in a better truck.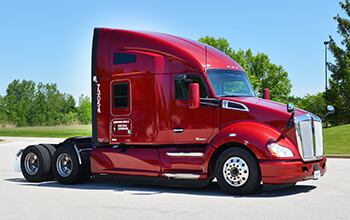 Maybe you aren't interested in purchasing/leasing additional trucks right now but want to upgrade the one you currently operate. A newer truck can drive down your operating expenses because it will most likely get better MPG, experience fewer breakdowns and be equipped with an APU.
Once you have a solid credit score and enough for a down payment, the next step will be to weigh the pros and cons of leasing a new/used truck or buying a used/new truck.
6. Engage someone to take care of office-related tasks.
As a business owner, you are required to juggle a lot: finding loads, doing the books, filling out paperwork, not to mention actually hauling freight. If you feel like office-related tasks are cutting into the time you spend driving, then it may be time to consider engaging someone to do them for you.
Some of the people owner-operators often engage to help with their business include:
A certified public accountant (CPA): If you dislike doing books and sometimes receive fines for mistakes or delays, utilizing a CPA could be beneficial.
A freight broker: As you become a more experienced owner-operator, you may have the opportunity to operate under your own authority and work with a freight broker who has established relationships with shippers.
A truck dispatcher: If you are thinking about hiring multiple drivers to grow your fleet, a truck dispatcher can be extremely useful for assigning loads and managing your drivers.
Maybe you can't afford to pay all of these people right now, so think about what tasks are taking up most of your time and consider the right person to help you with those responsibilities.

7. Expand your fleet with additional drivers.
Hiring a truck driver may feel daunting, but the potential revenue increase from having a second person hauling freight for your business should also be exciting. Here are a few pieces of advice when it comes to hiring your first-ever truck driver:
Find a driver before you invest in a second truck. You don't want to purchase or lease a truck to not find a driver to use it.
If you are considering hiring a friend or family member to work for you, make sure you think through if a boss/employee relationship would work for both you and the friend or family member.
Always interview someone before hiring them.
Once you've hired someone, have them team drive with you for a while before they go out on their own. This way they can see how you want things done, and you can get a better taste for their driving style.
If you don't think hiring drivers is right for your business, you may want to consider contracting with independent contractors.